GHOST LEGEND® pre workout combines a stand out energy and focus formula with premium pump ingredients to get you feeling like a legend whenever you need it most.
LEGENDARY PUMPS, ENERGY AND FOCUS
We aren't the type to make crazy claims or talk nuanced product specifications (there's this thing called the internet for those that want to research). All you need to know is that GHOST LEGEND® packs more than 2x of the stuff you care about most into every scoop than most "leading" pre-workouts.
GHOST® Full Disclosure Label
4G L-Citrulline per scoop
GHOST® FULL DISCLOSURE LABEL
All GHOST® products feature a 100% transparent label that fully discloses the dose of each active ingredient. Zero proprietary blends means you know what you're getting in each and every scoop.
Customer Reviews
11/24/2020
Marc A.
Canada
I recommend this product
Get more GHOST :)
Finally a company that can deliver this brand to our home, Canada. Love these supplements, please get more varieties.
10/16/2020
Shawn B.
Canada
I recommend this product
Pre-workout
The Grape flavour taste just like welches, fast shipping. Will order from Bulldog again.
09/09/2020
Darryl R.
Canada
I recommend this product
GHOST Legend (Welch's Grape)
Excellent tasting pre work out that doesn't over power, it provides just enough kick to get you through your workout. Try mixing it with some sparkling water for an added twist. I received my shipment very quickly and included the always appreciated free samples. Thanks Bulldog:)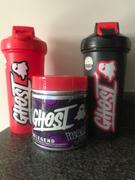 08/27/2020
Kayla H.
Canada
Amazing Pre workout!
SO delicious tasting, and works great. Excellent energy for workout and no heart racing feeling or crash afterwards.
08/26/2020
Rebeca F.
Canada
Welch's Grape
The best prework out & a taste of my childhood